AgriFORCE Provides Update on UN(THINK)™ Awakened Flour Nutritional Advantages
VANCOUVER, British Columbia, Aug. 03, 2023 (GLOBE NEWSWIRE) — AgriFORCE Growing Systems Ltd.(NASDAQ: AGRI; AGRIW), an intellectual property (IP)-focused AgTech company dedicated to advancing sustainable cultivation and crop processing across multiple platforms, today provided an update on the qualification of its UN(THINK)™ Awakened Flour. The company has now confirmed the nutritional edge its new product has over regular flours. Independent lab test results confirm UN(THINK)™ Awakened Flour has over 5x the fiber, 2x the protein, and 77% less net carbs than regular all-purpose flour.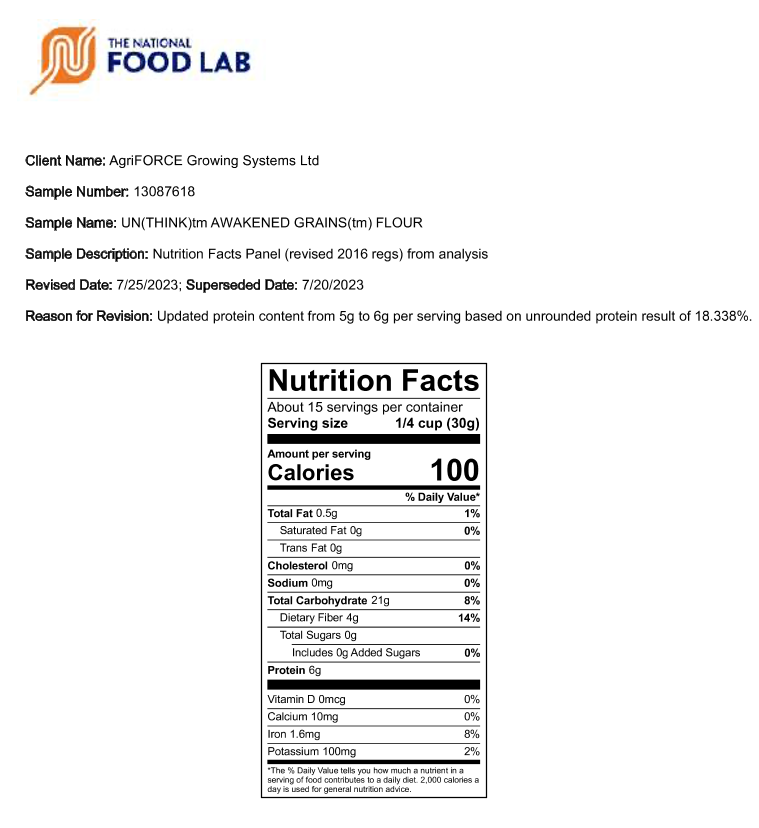 As previously announced, UN(THINK)™ Awakened Flour uses a 100% natural patented process that captures the goodness of the grain, providing all the nutritional and dietary benefits of germinated wheat, without sacrificing the flavor, texture, richness and natural sweetness that are ideal for breads and pastries. UN(THINK)™ Awakened Flour uses 100% of the whole wheat kernel with no added ingredients, providing superior nutrition.
David Naccarato, Director of IP Development and Inventor of the CERES-MNG Patent, explained the advantages of UN(THINK)™ Awakened Flour: "As compared to standard all-purpose flour, whole-wheat baking flours made with 100% of the wheat kernel are considerably higher in fiber. The increased fiber, bran and other parts of the kernel can make breads, pancakes, pasta, and pastries more dense and course due to the reduced overall percentage of gluten which gives baked goods structure and texture. Additionally, within the bran, certain natural compounds known as tannins and phytic acid take center stage. These compounds, although rich in nutritional value and health benefits, contribute to the distinct bitter taste of whole wheat breads resulting in a more bitter taste. While sprouted flours, mainly from sprouted wheat, provide greater digestive and dietary health benefits, these benefits also come at the expense of functionality, meaning breads and pastries made with sprouted grain flour can lack texture and structure, as well as taste slightly "grassy" due to the acrospires (sprout tails). Another problem is that there are no standards for sprouted wheat."
"UN(THINK)™ Awakened Flour solves these problems," continued Mr. Naccarato. "By gently germinating the grains with strictly tested parameters and stopping the sprouting process at a very early stage, grains are naturally brought to an ideal state that optimizes nutrition and functionality, while heightening natural sweetness to improve the taste profile. The CERES-MNG patented process of natural accelerated modification provides an unprecedented degree of flavor, quality, and performance not seen in other whole kernel or sprouted wheat products. Consumers no longer need to sacrifice the flavor and quality they crave in baked goods, in order to get the nutrition they desire and need."
UN(THINK)™ Awakened Flour is now available for B2B customers in Canada and the U.S. and AgriFORCE plans to expand sales into the direct-to-consumer market by the end of the year.
For more information on AgriFORCE, UN(THINK) Foods and how to purchase UN(THINK)'s Awakened Flour for your business, please visit: https://agriforcegs.com/unthink-signup/
ABOUT AGRIFORCE
AgriFORCE Growing Systems Ltd. (NASDAQ: AGRI; AGRIW) is an agtech company focused on building an integrated agtech platform that combines the best technology, intellectual property and knowledge to solve an urgent problem – providing the best solutions to help drive sustainable crops and nutritious food for people around the world. The AgriFORCE vision is to be a global leader in delivering plant-based foods and products through an advanced and sustainable agtech platform that makes positive change in the world—from seed to table. Additional information about AgriFORCE is available at: www.agriforcegs.com.
Follow AgriFORCE on Twitter: @agriforcegs
Follow AgriFORCE on Facebook: AgriFORCE Growing Systems Ltd.
Connect with AgriFORCE on LinkedIn: AgriFORCE Growing Systems Ltd.
This press release contains forward-looking statements within the meaning of the "safe harbor" provisions of the Private Securities Litigation Reform Act of 1995. Statements other than statements of historical facts included in this press release may constitute forward-looking statements and are not guarantees of future performance, condition or results and involve a number of risks and uncertainties. Actual results may differ materially from those in the forward-looking statements as a result of a number of factors, including those described from time to time in our filings with the Securities and Exchange Commission and elsewhere. The Company undertakes no duty to update any forward-looking statement made herein. All forward-looking statements speak only as of the date of this press release.
This announcement is for informational purposes only and does not constitute an offer to sell or a solicitation of an offer to buy securities of the issuer. Any offer to sell or solicitation of an offer to buy securities of the issuer may only be made pursuant to a valid prospectus pursuant to an effective registration statement or pursuant to a valid exemption from registration under the Securities Act of 1933, as amended and the rules and regulations promulgated thereunder.
Company Contact:
Ian Pedersen
Tel: (604) 757-0952
Email: [email protected]
Investor Relations:
Crescendo Communications, LLC
David Waldman/Alexandra Schilt
Tel: (212) 671-1021
Email: [email protected]
A photo accompanying this announcement is available at https://www.globenewswire.com/NewsRoom/AttachmentNg/afa4f514-dd1f-4879-ac1f-cf8737ca0474

CBJ Newsmakers