American Pacific Provides Palmer VMS Project Update
VANCOUVER, British Columbia, Aug. 08, 2023 (GLOBE NEWSWIRE) — American Pacific Mining Corp (CSE: USGD / OTCQX: USGDF / FWB: 1QC) ("American Pacific" or the "Company") is pleased to provide an update on the ongoing activities at its Palmer Project ("Palmer" or the "Project") near Haines, Alaska, US.
Palmer is an advanced-stage, high-grade volcanogenic massive sulphide-sulphate deposit ("VMS") located in the Porcupine Mining District of the Haines Borough, Alaska. Constantine North Inc ("Constantine"), a subsidiary of American Pacific, is the operator for the Project and the US$25.5 million 2023 program is funded by joint venture partner Dowa Metals & Mining Co., Ltd ("Dowa").
"Drilling progress is ahead of schedule, and we are pleased to report that semi-massive and massive sulphide mineralization has been observed over drilled thicknesses of approximately 40 metres within the upper (Zone 1) and lower (Zone 2-3) VMS lenses of the Southwall Zone at the Palmer Deposit," stated Warwick Smith, CEO of American Pacific.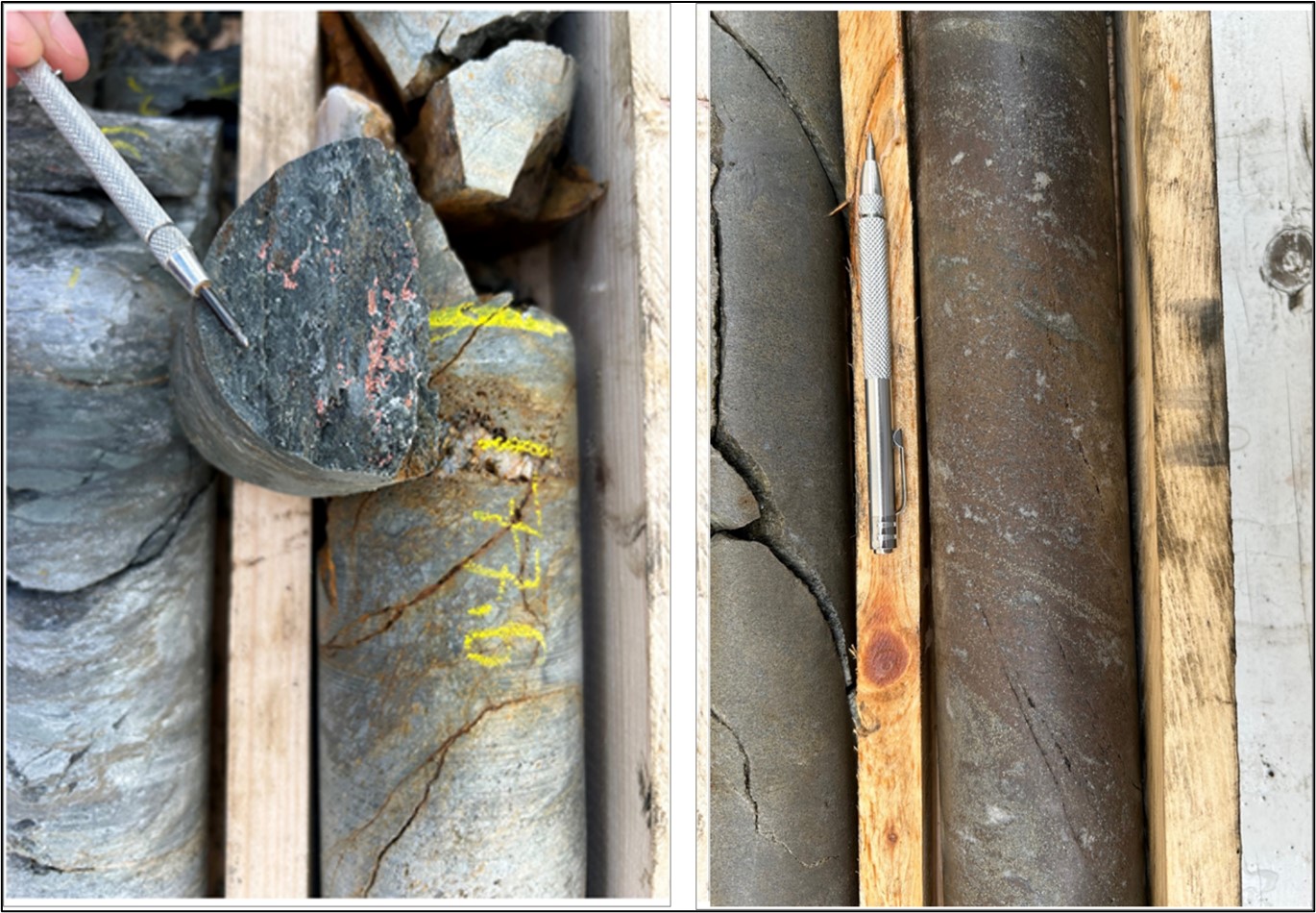 Plate 1: (left) Native copper in drillhole CMR23-152 at 177.6 m downhole (Southwall Zone 1).
Plate 2: (right) Massive sphalerite from CMR23-153 at 156.9 m downhole (Southwall Zone 1).
Highlights:
4,178 metres ("m") of the planned 9,000 m resource definition program has been drilled representing 46% of the planned 2023 program.
1,022 m of the planned 2,550 m geotechnical drill program has been drilled, representing 40% of the planned program. Hydrogeologic testing and monitoring well installations are ongoing to determine the hydrogeological characteristics and rock mechanics of the hanging wall and footwall.
The first 378 samples for assays were recently shipped to the laboratory with results expected during Q3, 2023.
Program Goals and Drill Program Overview:
One of the 2023 program goals is to build the foundation of people, infrastructure, and resources needed to operate through the advanced exploration and evaluation stages and complete feasibility-level engineering studies on the Project in the coming years.
"The 2023 field season started with snow clearing along Porcupine Road, providing construction access for a safe and modern 60-person camp, scheduled for occupancy in August. The addition of these facilities is a major milestone and will support an expanded field season, year-round environmental monitoring and maximize productivity going forward," commented Peter Mercer, VP of Advanced Projects for American Pacific.
The 2023 diamond drill program is targeting high-priority areas in two unique mineralized lenses, which make up the Southwall Zone of the Palmer deposit. The knowledge gained from this program will provide insights to support feasibility-level studies of the Palmer deposit and future discovery focused drilling throughout the mineralized district. Two diamond drill rigs dedicated to the infill drill program have collared 14 holes, with good productivity and 46% of the program now complete. The third diamond drill rig, focused on hydro-geotechnical drilling in the immediate deposit area, has collared five holes, to date.
The 2023 drilling builds upon the Company's confidence in the current geologic modeling of the VMS lenses within the Southwall Zone, while gaining valuable geotechnical insight into the surrounding wall rock.
Figure 1: Oblique view of the planned 2023 drill program at the Southwall Zone with topography.
Infill drillholes shown in white and grey; Geotechnical drillholes shown in pink.
Logging of drill core from Southwall Zone 1 indicates massive and semi-massive sulphide mineralization up to 43 m in drilled thickness and defined by a sphalerite-rich eastern limb, a chalcopyrite-rich core and increasing pyrrhotite-pyrite mineralization through the centre of the lens. Drilling will continue to test the western portion of Zone 1 and the extent of the mineralization.
Directional drilling of Southwall Zone 2-3 has provided insight into the structural complexity of the deposit at depth, allowing for precision targeting of desired intersections. Two distinct sphalerite-chalcopyrite-pyrrhotite-barite massive sulphide horizons have been visually identified through core logging at approximately 39 m in drilled thickness.
In addition, ongoing analysis of historical geochemical data continues to highlight areas with high-grade potential near the Southwall Zone.

Figure 2: Massive chalcopyrite-pyrrhotite-pyrite in directional hole CMR23-157-01, Lower Southwall Zone 2-3.

Figure 3: Banded sphalerite-pyrite-chalcopyrite-barite in hole CMR23-155, Southwall Zone 1.
Team and Safety
The Company is building the team and facilities to fully evaluate the Palmer Project over the next several years. This year's field program is being executed with 41 direct employees, 11 are year-round and 30 are full-time until late October. The Company has built a high-performing team, adding a Human Resources Manager, Financial Controller, Health and Safety Superintendent, Site Manager, Exploration Manager and several technical experts. The Project's ongoing hazard awareness and risk reduction focus will continually aim for industry-leading safety performance. The Company's safety record has remained excellent, with zero reportable lost time injuries to date.
Environmental Programs
An important part of Palmer's 2023 programs is broadening the understanding of environmental conditions in and around the Project area. The environmental team has been planning baseline studies to properly evaluate new areas for potential infrastructure. These studies include wetland mapping, noise monitoring, measuring ambient light, and fish and wildlife surveys.
A continued priority for the environmental team is ensuring Palmer's environmental studies and monitoring provide community confidence in the Project above and beyond regulatory compliance.
Geotechnical Studies
The 2023 geotechnical program will be focused on data acquisition to evaluate potential locations for Project infrastructure. The company has been working with contractors to be field ready marking the beginning of a multi-year effort to evaluate infrastructure locations and design. Overall, the focus of these programs will be to identify the best location possible for site infrastructure from multiple perspectives, allowing the Company to design the best project for the region.
Qualified Person Statement
The scientific technical information in this news release was reviewed and prepared under the supervision of Michael Vande Guchte, P.Geo., Vice-President Exploration for the Palmer Project. Mr. Vande Guchte is a Qualified Person under National Instrument 43-101 Standards of Disclosure for Mineral Projects. Mr. Vande Guchte has verified the data related to the exploration information disclosed in this press release through his direct participation in the work.
About American Pacific Mining Corp.
American Pacific Mining Corp. is a precious and base metals explorer and developer focused on opportunities in the Western United States. The Company has two flagship assets: the Palmer Project, a Volcanic Massive Sulfide (VMS) project in Alaska, under joint-venture partnership with Dowa Metals & Mining, owner of Japan's largest zinc smelter; and the Madison Project, a past-producing copper-gold project in Montana partnered with Kennecott Exploration, a division of the Rio Tinto Group. For the Madison transaction, American Pacific was selected as a finalist in both 2021 and 2022 for 'Deal of the Year' at the S&P Global Platts Global Metals Awards, an annual program that recognizes exemplary accomplishments in 16 performance categories. Also, in American Pacific's asset portfolio are three high-grade, precious metals projects located in key mining districts of Nevada, USA: the Ziggerat Gold project, partnered with Centerra Gold; the Gooseberry Silver-Gold project; and the Tuscarora Gold-Silver project. The Company's mission is to grow by the drill bit and by acquisition.
On behalf of the American Pacific Mining Corp Board of Directors:
Warwick Smith, CEO & Director
Corporate Office: Suite 910 – 510 Burrard Street
Vancouver, BC, V6C 3A8 Canada
Investor relations contact:
Kristina Pillon, High Tide Consulting Corp.
604.908.1695 / [email protected]
Media relations contact:
Adam Bello, Primoris Group Inc.
416.489.0092 / [email protected]
The CSE has neither approved nor disapproved the contents of this news release. Neither the CSE nor its Regulation Services Provider (as that term is defined in the policies of the CSE) accepts responsibility for the adequacy or accuracy of this release.
Photos accompanying this announcement are available at
https://www.globenewswire.com/NewsRoom/AttachmentNg/9d0037bb-9bef-49d3-93b5-60673b780844
https://www.globenewswire.com/NewsRoom/AttachmentNg/54449c76-8d6a-4e09-ab3f-8246b0709313
https://www.globenewswire.com/NewsRoom/AttachmentNg/4f187917-b941-4e8b-9022-c0ea765d6f15
https://www.globenewswire.com/NewsRoom/AttachmentNg/dbdfd5b1-7123-4423-9f79-b535d0a81f80

CBJ Newsmakers