Cullinan Metals Announces Completion of Airborne Geophysical Survey at Lac-des-Iles West Graphite Project
VANCOUVER, British Columbia, May 11, 2023 (GLOBE NEWSWIRE) — Cullinan Metals Corp. (CSE: CMT)(OTCQB: CMTNF) ("Cullinan" or the "Company") is pleased to announce the successful completion of geophysical surveys at the Lac-des-Isles West graphite project. Airborne magnetic (MAG) and time-domain electromagnetic (TDEM) geophysical surveys were conducted over the Property by Prospectair Geosurveys, a leading provider of airborne geophysics services.
The Lac-Des-Iles property consists of 43 mineral claims in one contiguous block covering approximately 2,276 hectares land, near the town of Mont-Laurier in southern Québec. The claims are located adjacent to the north and west of the Lac des Iles Graphite Mine (LDI mine) previously owned by Imerys Graphite and Carbon, which has been in operation for over 20 years and is the only significant graphite producer in North America. Cullinan Metals property has excellent infrastructure support, road accessible, located 150 kilometres from Montreal, water, power and manpower available locally.
In April 2023, Prospectair completed a total of 328 line-km of MAG and TDEM surveys over the Property. The survey was carried out with traverse lines oriented N106 to properly map the dominant magnetic/geological strike, and with a 100m line spacing. Control lines were flown perpendicular to traverse lines and at a 1000 m line spacing (see Figure 1 below). The survey data is being processed and will be released as soon as available.
"We are excited about getting our exploration program up and running for the season. The geophysics will help identify high priority targets," said Marc Enright-Morin, President and CEO of Cullinan Metals. "The identification of high-priority targets will provide us with a clear roadmap for our upcoming exploration program, and we look forward to advancing our understanding of the property's potential."
Figure 1: Survey flight lines dimensions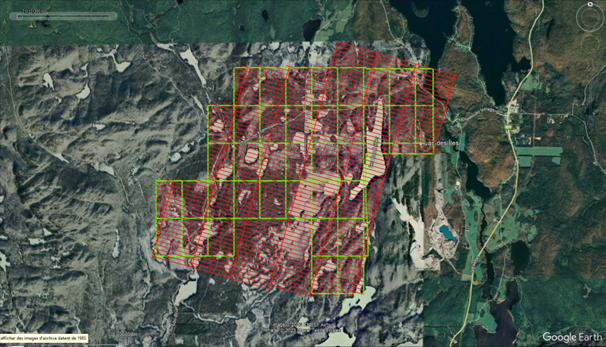 Afzaal Pirzada, P.Geo., Geological Consultant of the Company, and a "Qualified Person" for the purposes of National Instrument 43-101 – Standards of Disclosure for Mineral Projects, has reviewed and approved the scientific and technical information contained in this news release.
On Behalf of the Board,
CULLINAN METALS CORP.
Marc Enright-Morin
CEO, Director
(604) 669-9788
About Cullinan Metals Corp.
Cullinan Metals Corp. is a Canadian mining and exploration company focused on the development of energy metals. Cullinan is focused on key energy resources such as the development of copper, graphite and lithium assets around the world.
Neither the Canadian Securities Exchange nor its regulation services provider accepts responsibility for the adequacy of accuracy of this release. No stock exchange, securities commission or other regulatory authority has approved or disapproved the information contain herein.
Forward-Looking Statements
Forward-looking statements in this news release may include, but are not limited to, statements relating to those in respect of the proposed FT Offering, including the size, pricing and timing thereof, the type of securities being offered thereunder, the investors participating therein, the intended use of proceeds therefrom, the tax treatment of the securities to be issued under the FT Offering pursuant to the Act and Taxation Act (Quebec), the timing to renounce all Qualifying Expenditures in favour of the subscribers (if at all), and the conditions and approvals required and applications being filed in connection therewith. Although the Company believes that the expectations and assumptions on which the forward-looking statements are based are reasonable, undue reliance should not be placed on the forward-looking statements because the Company can give no assurance that they will prove to be correct. Since forward-looking statements address future events and conditions, by their very nature they involve inherent risks and uncertainties. Actual results could differ materially from those currently anticipated due to a number of factors and risks. Certain of these risks are set out in more detail in the Company's Annual Information Form for the financial year ended September 30, 2022, dated as of January 17, 2023 which has been filed on SEDAR and can be accessed at www.sedar.com. The forward-looking statements contained in this news release are made as of the date hereof, and except as may be required by applicable securities laws, the Company assumes no obligation or intent to update publicly or revise any forward-looking statements made herein or otherwise, whether as a result of new information, future events or otherwise.
A photo accompanying this announcement is available at https://www.globenewswire.com/NewsRoom/AttachmentNg/96a7fb64-7603-4575-8830-be3703184222

CBJ Newsmakers