ExGen: DOK Project – Drilling Commenced
NOT FOR DISTRIBUTION TO UNITED STATES NEWSWIRE SERVICES OR FOR DISSEMINATION IN THE UNITED STATES
VANCOUVER, British Columbia, Aug. 28, 2023 (GLOBE NEWSWIRE) — ExGen Resources Inc. (TSX.V: EXG; OTC: BXXRF) ("ExGen", the "Company") is pleased to provide an update on its DOK project in northern British Columbia which is currently under option to Mountain Boy Minerals Ltd. Under the terms of the option Mountain Boy may acquire a 60% interest in the DOK claims by paying $230,000 and issuing 1,500,000 shares to ExGen and by spending $2,500,000 on the DOK claims by January 2026.
Jason Riley, CEO of ExGen commented: "ExGen has been encouraged by the diligence of MTB with the past 2 years of work at DOK proving up drilling targets and we eagerly await the results from this current drill program."
In a news release dated August 16, 2023, Mountain Boy announced that drilling on the DOK claims, now part of its Telegraph porphyry project, " is anticipated to start around August 19. Currently pads are being built and the drills are being mobilized. The first phase of drilling will be testing three areas along 2.5 kilometres of the identified Dok trend. The geological setting of the Telegraph property is similar to four world-class porphyry copper-gold deposits in the same region, all of which are being advanced by major mining companies.
Two holes drilled in 2014 by ExGen Resources Inc. confirmed the presence of a porphyry copper-gold system at Dok, but the holes are interpreted to be peripheral to the heart of the system. For the last 2 years the MTB geological team has been compiling the historic data and systematically exploring the various identified targets with geological alteration and structural mapping, prospecting, shortwave infrared spectroscopy (SWIR), rock sampling, spectral analysis and soil geochemistry. A Volterra 3D Induced Polarization (3DIP) ground survey was also conducted in 2022 over the Red Creek area within the Dok Trend. By evaluating the SWIR data, trace element geochemistry and identified alteration, the geological team is building a porphyry model for the area. Multiple porphyry targets have been identified within the broad zone of alteration identified in the area, including the Dok trend. This initial drill program will involve 2,000 to 3,000 meters of drilling from 3 drill pads, with the details of the program evolving based on observations as the drilling progresses.
2023 Field Program and Target Selection
For the 2023 field season, exploration has been focussed primarily on the Dok trend in preparation for drilling.
Field work has consisted of further geological alteration and structural mapping, spectral analysis, shortwave infrared spectroscopy (SWIR), assay rock sampling, and soil geochemistry. A portable X-Ray Fluorescence Spectrometer (pXRF) is on site which allows the team to instantaneously analyze the soil and rock samples without having to wait for assay results from the lab. Over 650 soil samples have been collected of which assay results have been received for the first 275 samples. The assay results for copper from the lab are consistently about 30% higher than the pXRF results, providing added confidence in the identified pXRF soil anomalies.
Numerous copper and gold in soil anomalies occur within Dok trend including a 1.2 km x 1 km anomaly, which includes 175 soil samples. The average concentration of copper in soils within this anomaly is 376 ppm, with a high of 3,860 ppm Cu and a low of 51 ppm. Values of up to 0.36 ppm gold also occur within this area.
Analysis of trace element geochemistry has demonstrated diagnostic zonation of metals comparable with current porphyry models. Additionally, SWIR data has identified alteration patterns, including white mica with high white mica crystallinity, a proxy for hotter temperatures and subsequently the centre of a porphyry hydrothermal system.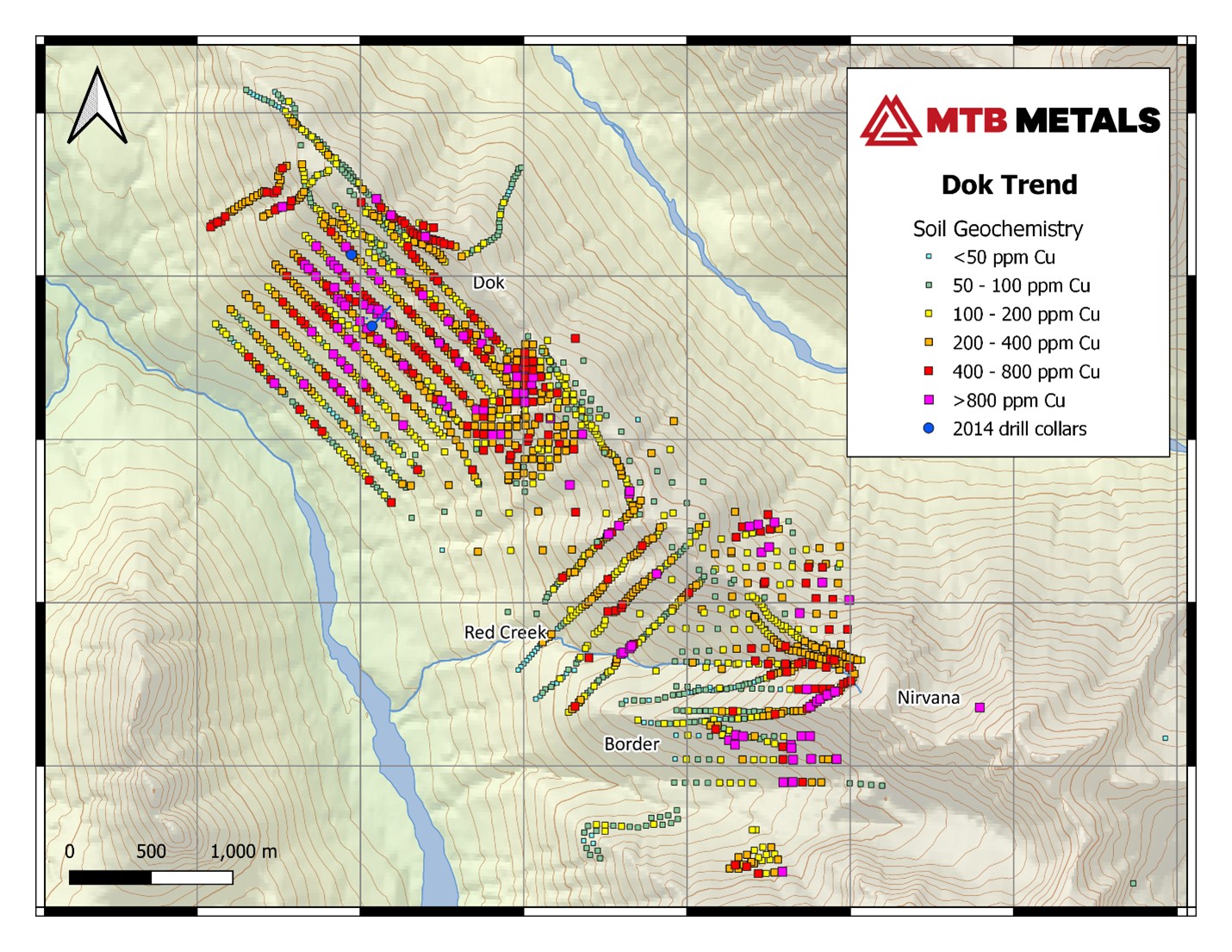 Figure 1- Current and Historic Soil Geochemistry for Copper on the Dok Trend
Currently, three styles of copper and gold mineralization have been identified. They include the following,
High grade copper mineralization hosted within quartz and carbonate veins interpreted to be peripheral to a porphyry system.
Disseminated and stockwork copper mineralization occurring with magnetite, k-feldspar, epidote and chlorite interpreted to be within the upper reaches of a porphyry system.
Disseminated and stockwork copper mineralization with k-feldspar, biotite and sericite, interpreted to be within the hotter (deeper) parts of a porphyry system.
Targets along the Dok trend have been ranked based on their IP and 3DIP chargeability responses from the 2012 and 2022 ground surveys, the magnetic response from the 2012 airborne mag survey, soil geochemistry results, pXRF results, SWIR results and field observations from ground truthing of identified anomalies."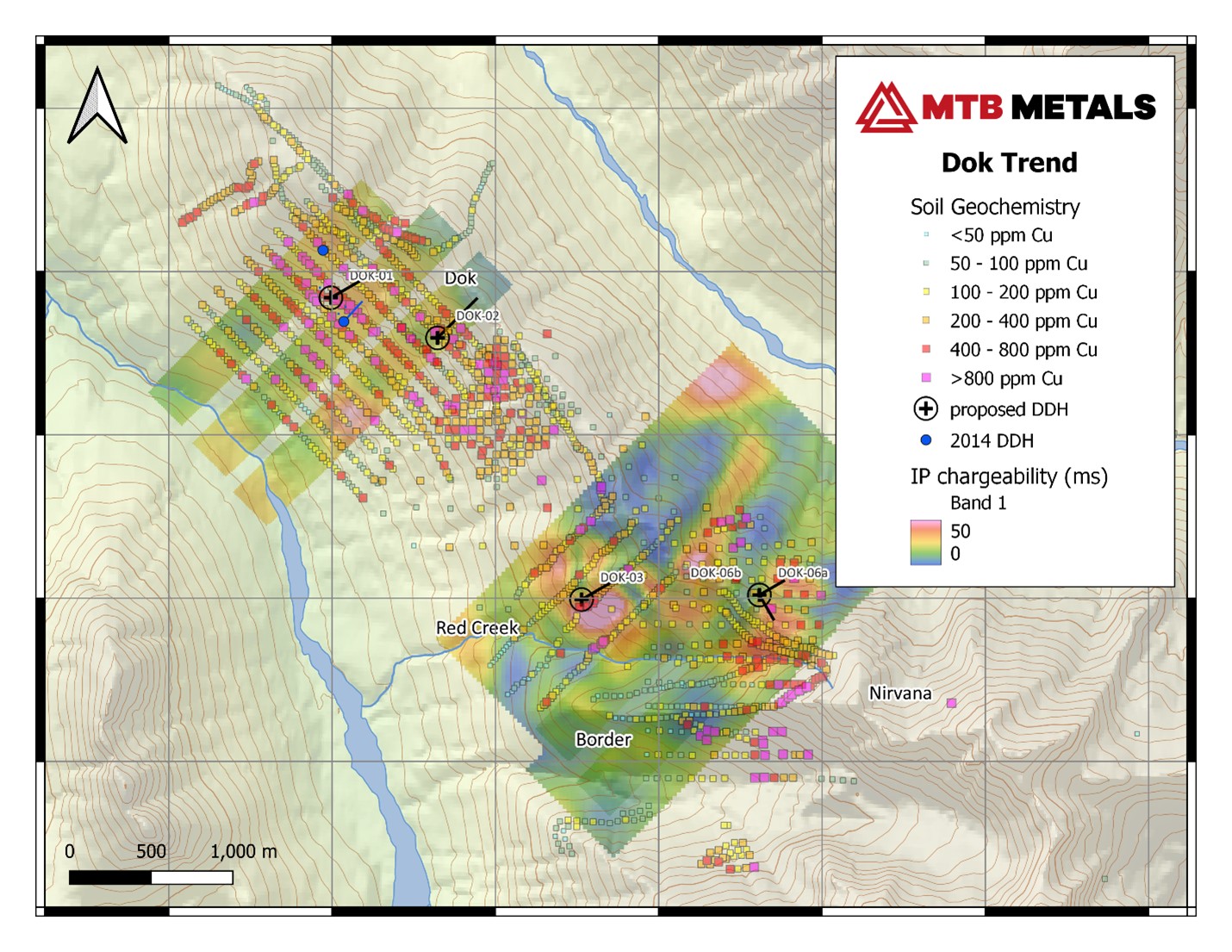 Figure 2 – Proposed Drill Holes for the Dok Trend on top of Copper Soil Geochemistry and Induced Polarization Chargeability
Lawrence Roulston, CEO, noted: "The geological team over the past two months carried out mapping, sampling and spectral analysis which confirmed the earlier information and filled in some gaps. These results provided a firm basis for selection of the initial drill targets. The team has worked methodically to advance the understanding of this huge geological system. This initial drill program will involve 2,000 to 3,000 meters of drilling from 3 drill pads, with the details of the program evolving based on observations as the drilling progresses. Use of the pXRF on the drill core will support the geological team's observations."
QUALIFIED PERSON
Kieran Downes, Ph.D., P. Geo., a Qualified Person as defined by National Instrument 43-101, has reviewed and verified the technical information provided in this release.
ABOUT EXGEN RESOURCES INC.
ExGen, formerly Boxxer Gold Corp, is a project accelerator that seeks to fund exploration and development of our projects through joint ventures and partnership agreements. This approach significantly reduces the technical and financial risks for ExGen, while maintaining the upside exposure to new discoveries and potential cash flow. The company intends to build a diverse portfolio of projects across exploration stages and various commodity groups. ExGen currently has 5 projects in Canada and the US.
For more information on ExGen please contact ExGen Resources Inc.
Neither the TSX Venture Exchange nor its Regulation Services Provider (as that term is defined in the policies of the TSX Venture Exchange) accepts responsibility for the adequacy or accuracy of this release.
Forward-Looking Information: This news release may contain certain forward-looking information. All statements included herein, other than statements of historical fact, are forward-looking information and such information involves various risks and uncertainties. In particular, this news release contains forward-looking information regarding: the proposed drilling and exploration program on the DOK claims and larger Telegraph Creek Project. There can be no assurance that such forward-looking information will prove to be accurate, and actual results and future events could differ materially from those anticipated in such forward-looking information. This forward-looking information reflects ExGen's current beliefs and is based on information currently available to ExGen and on assumptions ExGen believes are reasonable. Known risk factors include, among others: the exploration and drilling program on the DOK project may be delayed or not completed at all; the exploration and drilling program may not intersect any mineralization or mineralization as favorable as suggested by the current and historical exploration; ExGen may not be able to comply with its ongoing obligations regarding the DOK Property; fluctuations in copper and gold prices and demand; currency exchange rates; conditions in the financial markets and the overall economy may continue to deteriorate; uncertainties relating to interpretation of the previous exploration results, the need to obtain additional financing and uncertainty of meeting anticipated program milestones; uncertainty as to timely availability of permits and other governmental approvals. Forward-looking information is subject to known and unknown risks, uncertainties and other factors that may cause the actual results, levels of activity, performance or achievements of ExGen to be materially different from those expressed or implied by such forward-looking information. Such risks and other factors may include, but are not limited to: the early stage development of ExGen and its projects, and in particular, the early stage of the DOK Project; general business, economic, competitive, political and social uncertainties; capital market conditions and market prices for securities, junior market securities and mining exploration company securities; commodity prices, in particular copper, gold, silver, and zinc prices; competition; changes in project parameters as plans continue to be refined; accidents and other risks inherent in the mining industry; lack of insurance; delay or failure to receive board or regulatory approvals; changes in legislation, including environmental legislation, affecting ExGen; conclusions of economic evaluations; and lack of qualified, skilled labour or loss of key individuals. A description of additional assumptions and risk factors used to develop such forward-looking information that may cause actual results to differ materially from forward-looking information can be found in ExGen's disclosure documents on the SEDAR website at www.sedar.com. Although ExGen has attempted to identify important factors that could cause actual results to differ materially from those contained in forward-looking information, there may be other factors that cause results not to be as anticipated, estimated or intended. Accordingly, readers should not place undue reliance on forward-looking information. ExGen does not undertake to update any forward-looking information except in accordance with applicable securities laws.
Photos accompanying this announcement are available at
https://www.globenewswire.com/NewsRoom/AttachmentNg/2373a0f8-b2c1-4214-90b8-df943fc4dca4
https://www.globenewswire.com/NewsRoom/AttachmentNg/ef141cb1-49ba-4027-9acb-329b1174f02f

CBJ Newsmakers