Globex Sets Single All-Inclusive Royalty on Chibougamau Independent Properties
ROUYN-NORANDA, Quebec, Sept. 13, 2023 (GLOBE NEWSWIRE) — GLOBEX MINING ENTERPRISES INC. (GMX – Toronto Stock Exchange, G1MN – Frankfurt, Stuttgart, Berlin, Munich, Tradegate, Lang & Schwarz, LS Exchange, TTMzero, Düsseldorf and Quotrix Düsseldorf Stock Exchanges and GLBXF – OTCQX International in the US) wishes to inform shareholders that Chibougamau Independent Mines Inc. ("Chibougamau") (CBG-TSX-V in Canada, CLL1-Frankfurt, Stuttgart and Lang & Schwarz Stock Exchanges in Germany, CMAUF-OTC in the US) has been notified by Tomagold that regulators have authorized Tomagold Corporation ("TomaGold") (TSXV-LOT, OTCQB: TOGOF) to finalize the option agreement as regards TomaGold's option of the large West Block of properties held by Chibougamau in the Chibougamau Mining Camp. Under the agreement, Globex will retain a 2% Gross Metal Royalty (GMR) on all the West Block properties rather than royalties ranging from 0% to 3% GMR on select properties.
In addition, the Letter of Intent (LOI), which allows TomaGold, subject to due diligence, the opportunity to acquire Chibougamau's large East Block which includes a number of former copper-gold mines as well as the new, growing C-3 copper-gold orebody, for $11,000,000 has been approved by the regulators. Similarly, Globex will now retain a 2% GMR on all the East Block properties. (View August 14, 2023 Chibougamau Independent press release for details).
These undertakings are in addition to the 1% iron GMR Globex holds on the 1,226 million tonne Mont Sorcier Iron-Vanadium deposit currently held by Cerrado Gold. ("NI 43-101 Technical Report – Preliminary Economic Assessment (PEA) for the Mont Sorcier Project – Quebec, Canada" prepared by Simon Boudreau, P.Eng., Tim Fletcher, P.Eng., Daniel Gagnon, P.Eng., Mathieu Girard, P.Eng., Marina Lund, P.Geo. and Carl Pelletier, P.Geo., of DRA Americas Inc., InnovExplo Inc. and Soutex Inc.).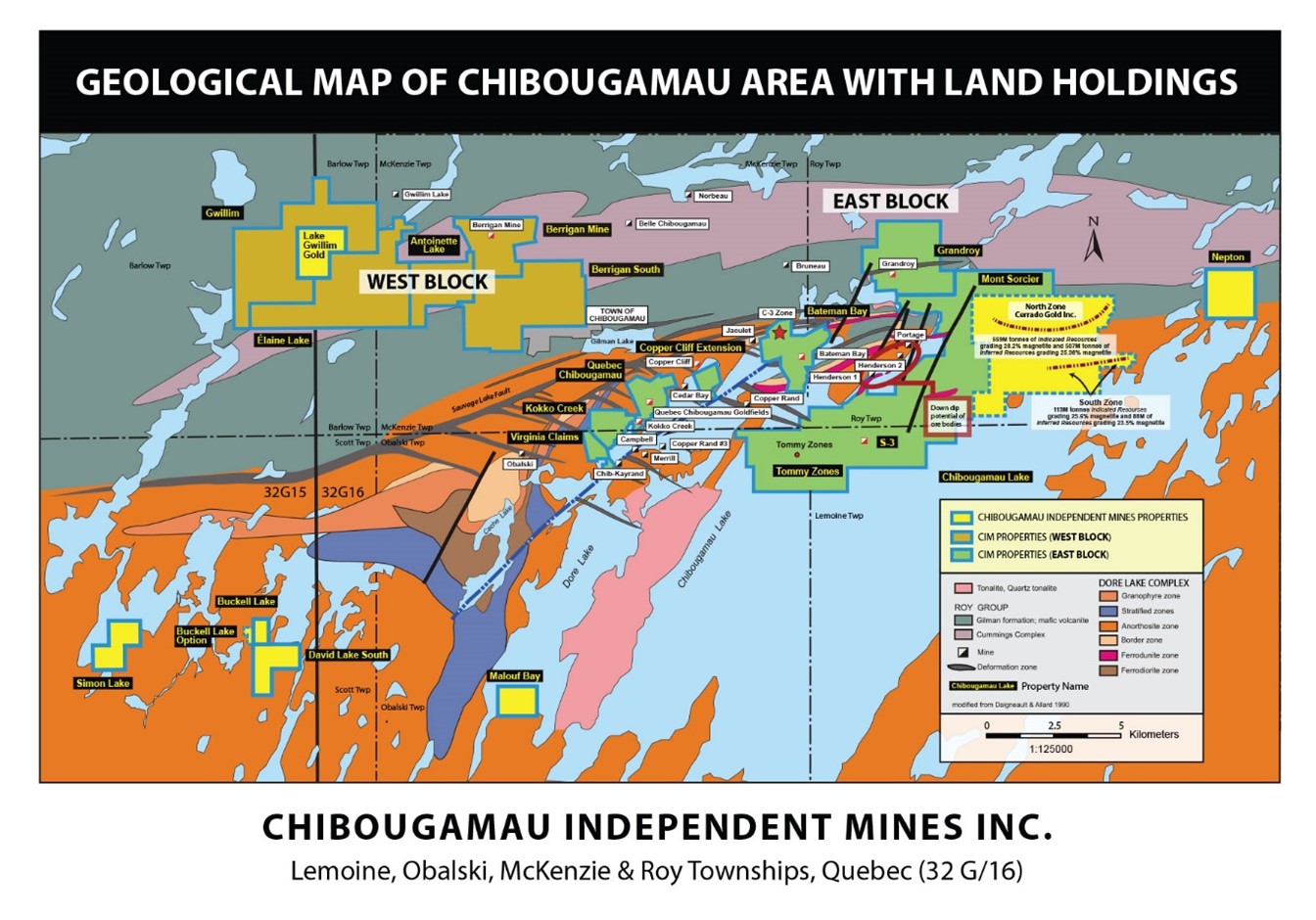 This press release was written by Jack Stoch, Geo., President and CEO of Globex in his capacity as a Qualified Person (Q.P.) under NI 43-101.
We Seek Safe Harbour.
Foreign Private Issuer 12g3 – 2(b)
CUSIP Number 379900 50 9
LEI 529900XYUKGG3LF9PY95
For further information, contact:
Jack Stoch, P.Geo., Acc.Dir.
President & CEO
Globex Mining Enterprises Inc.
86, 14th Street
Rouyn-Noranda, Quebec Canada J9X 2J1
Tel.: 819.797.5242
Fax: 819.797.1470
[email protected]
www.globexmining.com
Forward Looking Statements: Except for historical information, this news release may contain certain "forward looking statements". These statements may involve a number of known and unknown risks and uncertainties and other factors that may cause the actual results, level of activity and performance to be materially different from the expectations and projections of Globex Mining Enterprises Inc. ("Globex"). No assurance can be given that any events anticipated by the forward-looking information will transpire or occur, or if any of them do so, what benefits Globex will derive therefrom. A more detailed discussion of the risks is available in the "Annual Information Form" filed by Globex on SEDAR at www.sedar.com.
A photo accompanying this announcement is available at https://www.globenewswire.com/NewsRoom/AttachmentNg/79f593b0-996a-436a-a9b8-baf343569171

CBJ Newsmakers