How are IT professionals compensated in the Greater Montreal area?
MONTRÉAL, Feb. 23, 2023 (GLOBE NEWSWIRE) — Fed IT, specialized recruitment firm for IT positions, publishes the results of its annual compensation survey. How are IT professionals compensated in the Greater Montreal area? How did they evolved compared to the previous years in the market?
A dynamic market, responsible for a global compensation increase
The IT employment market has always been "one of the more volatile compared to the other sectors. Now that we are exiting the COVID-19 crisis, the trend is even more exacerbated" observes Frédérique Tahon, Associate Director of Fed IT. This phenomenon is the consequence of a plethora of openings as well as a tendency for companies to accommodate candidates' requests to secure a profile.
If IT professionals were already accustomed to working remotely before the crisis, those contracts are now becoming the norm, either in a hybrid format or 100% remote. This helps candidates to be more volatile, favoring those types of contracts. As a result of this dynamism, salaries can sometimes soar, in a bid to attract the best candidates on the market.
Compensation is an important criterion. However, …
In its Fed IT Pulse survey published last September, the recruitment firm Fed IT already stated that compensation was an important criterion in the IT field: 49% of surveyed candidates ranked this criterion as a primary selection point when looking for a job.
In this same survey, Fed IT also indicated that 69% of candidates were interested in clear and transparent training policies within the companies they work for. An argument to take into consideration for recruiters: even though compensation is important, fringe benefits are generally what seals the candidates' final decision.
Compensation survey
As with any salary survey, the ranges indicated represent averages and should be qualified according to several criteria: scope of the position, field and level of expertise, English language skills, team management, sector of activity, size of the company, location of the position, etc.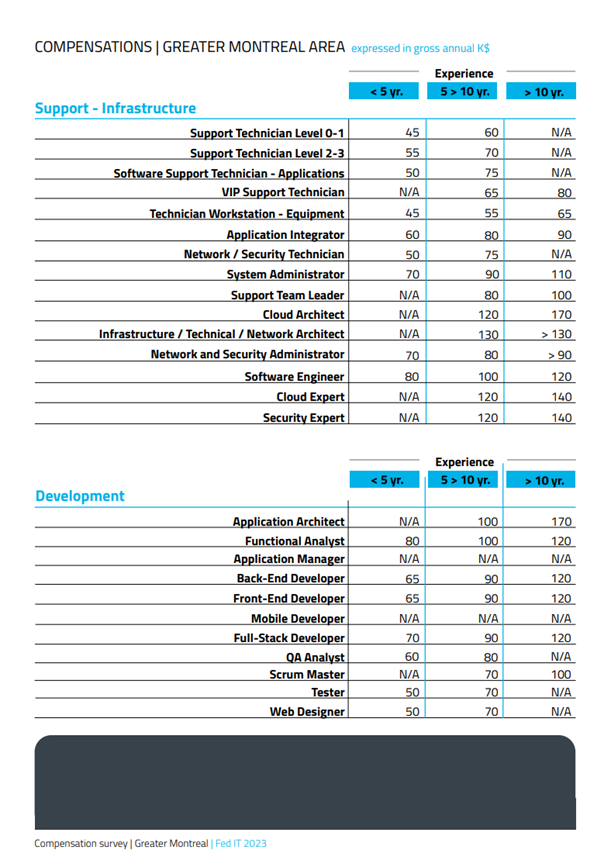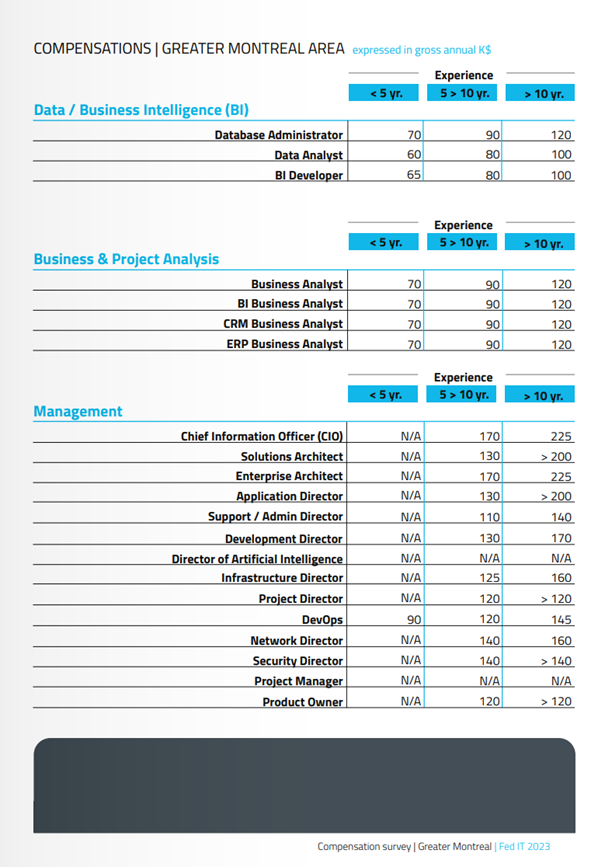 About Fed IT

A Groupe Fed brand, Fed IT is a specialized recruitment firm for IT positions. Created in 2019, Fed IT is based in Montreal and supports companies of all sizes in recruiting temporary and permanent positions throughout the Greater Montreal Area.
Photos accompanying this announcement are available at
https://www.globenewswire.com/NewsRoom/AttachmentNg/bc08aaf7-9160-4dd7-b89a-2935012f073d
https://www.globenewswire.com/NewsRoom/AttachmentNg/e1d8d442-1b96-410b-8b33-80934bd75d22