Standard Uranium Announces Agreement to Expand Newly Staked Corvo Project in the Eastern Athabasca Basin
VANCOUVER, British Columbia, Aug. 24, 2023 (GLOBE NEWSWIRE) — Standard Uranium Ltd. ("Standard Uranium", "Standard" or the "Company") (TSX-V:STND) (OTCQB: STTDF) (Frankfurt: FWB:9SU) is pleased to announce the Company's wholly-owned subsidiary, Standard Uranium (Saskatchewan) Ltd., has entered into a mineral property purchase and sale agreement (the "Purchase Agreement"), dated effective August 24, 2023, with Eagle Plains Resources Ltd. ("Eagle Plains"), pursuant to which the Company will acquire eight additional mineral claims totalling 4,278 hectares contiguous with the recently staked Corvo Project, in the Eastern Athabasca Basin region (the "Acquisition"). Upon completion of the Acquisition, the Corvo Project will comprise 7,989 hectares within ten claims and contain 14.5 km of prospective exploration corridors across two trends. Standard Uranium continues to implement their project generator growth strategy, further adding to the already considerable land package in the Athabasca basin through expansion and acquisition opportunities.
Summary of Purchase Agreement
Pursuant the terms of the Definitive Agreement, the aggregate purchase price payable by Standard Uranium to the Eagle Plains consists of (a) 1,250,000 common shares of the Company, (the "Consideration Shares") and (b) the granting of a net smelter returns royalty of 2.5% (the "NSR Royalty") to Eagle Plains on all Corvo claims effective as of the commencement of commercial production. The NSR Royalty is subject to a buydown right in favour of Standard Uranium pursuant to which Standard Uranium may purchase 1% of the NSR Royalty in exchange for payment of $1,000,000, thereby reducing the NSR Royalty to 1.5%. The Consideration Shares will be subject to a four month hold period as prescribed by applicable securities laws.
"Completing this deal with Eagle Plains will add significant value to the Corvo Project, delivering more than 5 kilometres of additional prospective exploration corridors in addition to several more historical uranium showings," said Sean Hillacre, President and VP Exploration for the Company. "The fact that the project is road-accessible year-round compliments the strong geoscience attributes of the project, drawing on the analogy of the near-by Gemini Mineralized Zone. With this addition to the claims staked by our team, Corvo is now a highly optionable project with size and strong geological characteristics prospective for uranium mineralization."
With the expansion of the Corvo Project, the Company will have ownership interests in seven projects, totalling over 187,542 acres across the uranium-rich Athabasca Basin. Standard Uranium continues to expand its set of high-potential assets across the Athabasca Basin to drive value and minimize dilution to shareholders through focused exploration and transactional success. The Company is seeking strategic partners to advance all projects through earn-in agreements that provide upside to shareholders through ongoing exploration and future discovery.
Tim Termuende, President and CEO of Eagle Plains commented, "We are pleased to have concluded a mutually beneficial deal with Standard on their Corvo Project. Standard brings to the table a solid management team while Eagle Plains will maintain significant upside exposure to the project through its sizeable shareholdings in Standard and the retention of an NSR."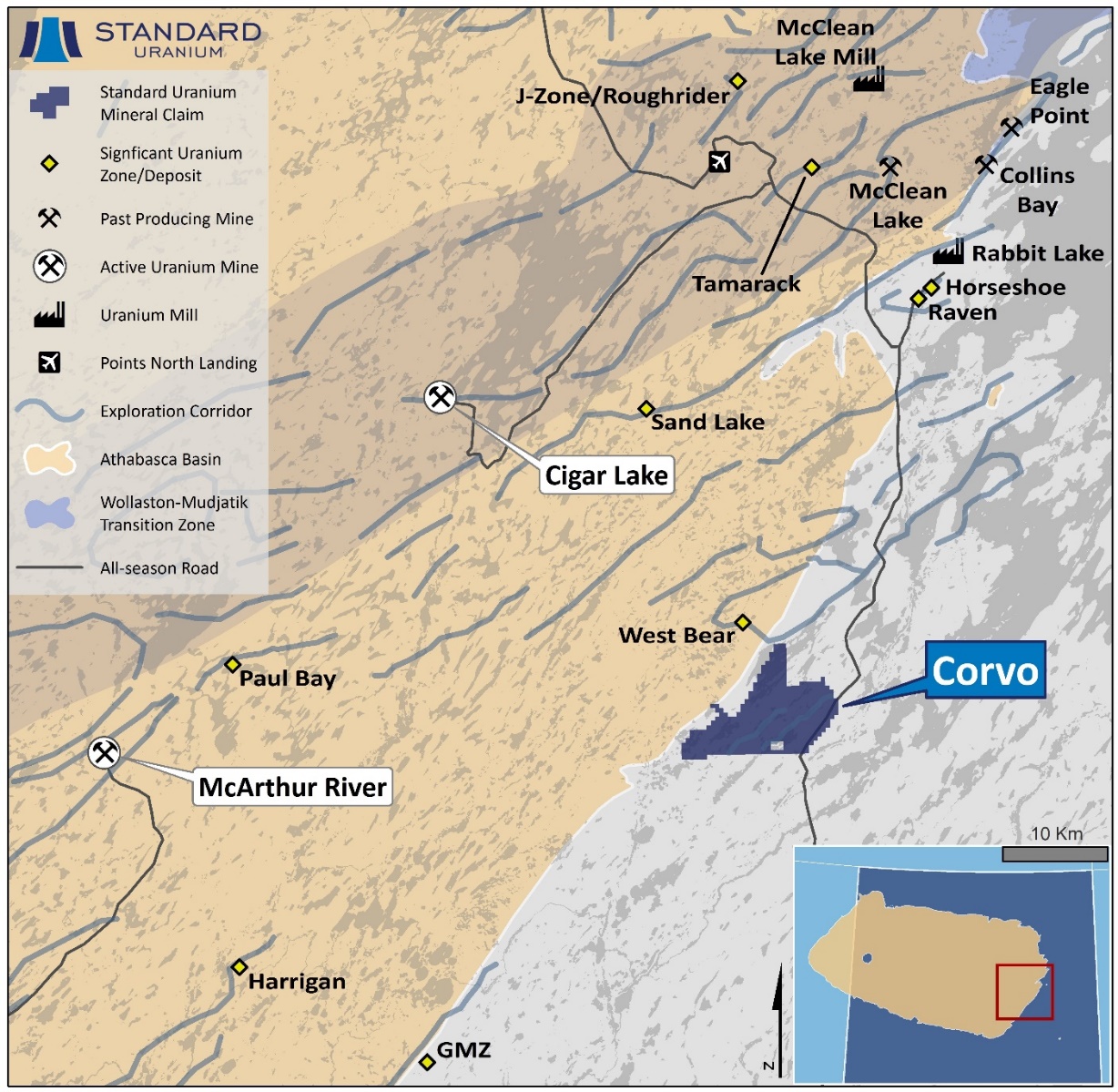 Figure 1. Overview map of Standard Uranium's Corvo Project. The newly expanded Corvo Project is located 45 km northeast of the 92Energy's Gemini Mineralized Zone ("GMZ") and 60 km due east of Cameco's McArthur River mine.
Key Focus Points:
Expansion of the Corvo Project will add an additional 4,278 hectares and 5 kilometres of two strong NE-SW magnetic low trends coincident with EM conductors and cross-cutting faults. Parallel magnetic low trends to the north and south are also added.
Uranium mineralization is present along a strike length of 800 metres in drill holes TL-79-3 (0.57% U3O8over 3.5 m) to TL-79-5 (0.65% U3O8over 0.1 m) within the new east-central claim.
Historical surveys highlight geochemical anomalies along conductive trends and lithologic contacts observed in outcrop. The expanded claims add multiple new data points of uranium anomalism to the project, including surface sample JBWLR011, returning 1,420 ppm U.
Elevated radioactivity measured in boulders, outcrop, and drilled rock coupled with the geochemical anomalies present on the Corvo project indicate high potential for discovery of additional uranium mineralization.
The Corvo Project is situated 1.5 kilometres outside the current margin of the Athabasca Basin, approximately 50 kilometres southwest of Rabbit Lake mill facilities and 45 kilometres northeast of the Gemini Mineralized Zone (Figure 1).
The expanded Corvo Project will cover approximately 14.5 kilometres of two northeast trending magnetic low/electromagnetic (EM) conductor corridors (Figure 2). The new claims acquired contain numerous historical samples and drill holes, providing an abundance of supplementary data to the project compilation (Figure 2). Additional uranium anomalies in both surface samples and drill holes will bolster the exploration strategy on the project and provide the basis for advancing Corvo to discovery. Data compilation by the Company is currently underway to identify target areas for high-grade1 uranium mineralization within metasedimentary and orthogneissic basement rocks (Figure 3). The Project will benefit from additional surface sampling and geophysical surveys to aid in drill target vectoring.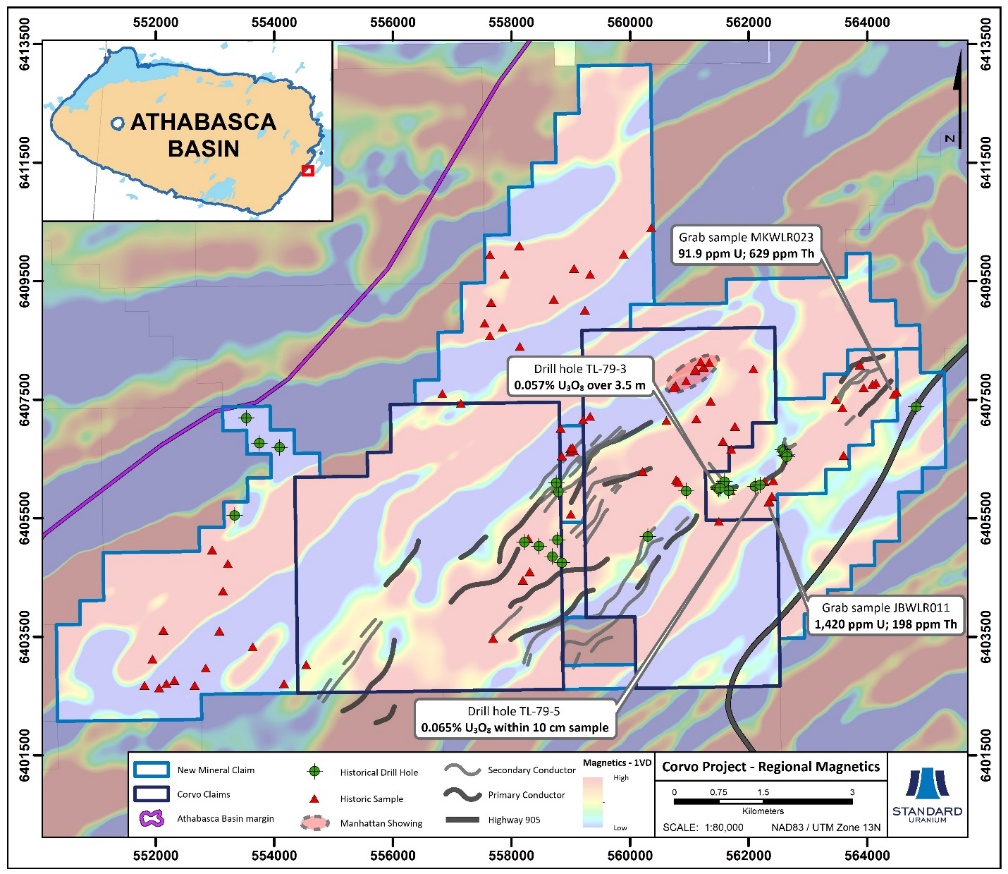 Figure 2. Plan map showing the magnetic low/EM conductor trends on the Corvo project highlighting historical samples and drill holes with anomalous uranium and/or radioactivity, with first vertical derivative magnetics in the background. Several additional uranium occurrences have been added to the project through the expansion.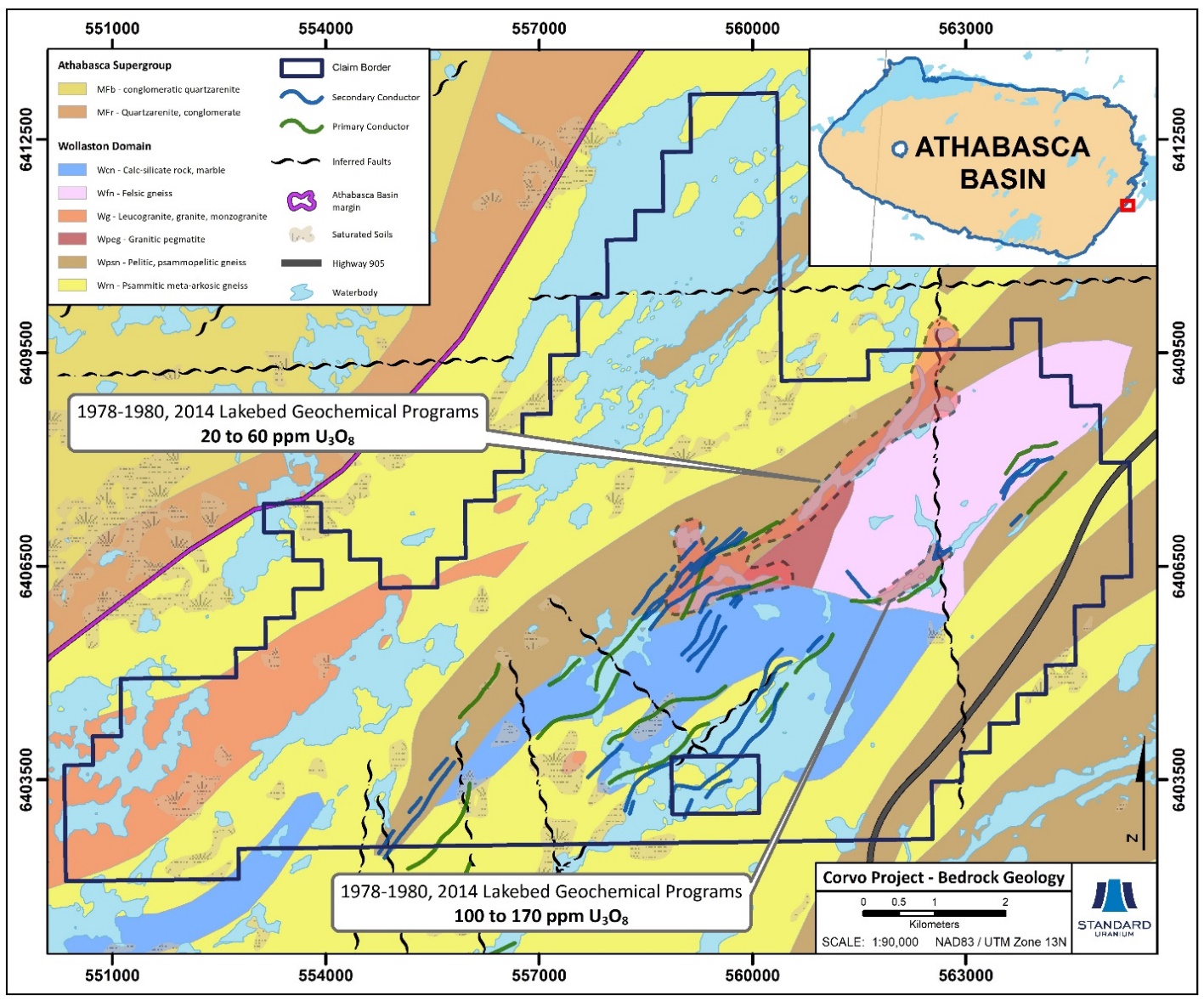 Figure 3. Plan map showing regional bedrock geology of the expanded Corvo project area and highlighting EM conductors coincident with geochemical anomalies and cross-cutting faults.
The Company believes the Corvo Project is highly prospective for the discovery of shallow, high-grade basement-hosted uranium mineralization akin to that recently discovered at the Gemini Mineralized Zone. The expansion of the Corvo Project is part of the Company's strategy to increase its landholdings in the infrastructure-rich eastern Athabasca Basin of Saskatchewan, Canada, providing strong opportunities for earn-in transactions. The project is extremely well positioned logistically, being road accessible via Highway 905 and proximal to other key infrastructure such as the Rabbit Lake Mill.
Completion of the Acquisition remains subject to the approval of the TSX Venture Exchange. The Company and Eagle Plains are at arms-length, and no finders' fees or commissions are payable by the Company in connection with the Acquisition. Upon issuance, the Consideration Shares will be subject to a four month hold period as prescribed by applicable securities laws.
The scientific and technical information contained in this news release, including the sampling, analytical and test data underlying the technical information contained in this news release, has been reviewed, verified, and approved by Sean Hillacre, P.Geo., President & VP Exploration of the Company and a "qualified person" as defined in NI 43-101.
About Eagle Plains Resources Ltd.
Based in Cranbrook, B.C., Eagle Plains is a well-funded, prolific project generator that continues to conduct research, acquire and explore mineral projects throughout western Canada. The Company was formed in 1992 and is the ninth-oldest listed issuer on the TSX-V (and one of only three that has not seen a roll-back or restructuring of its shares). Eagle Plains has continued to deliver shareholder value over the years and through numerous spin outs has transferred over $100,000,000 in value directly to its shareholders, with Copper Canyon Resources and Taiga Gold Corp. being notable examples. Eagle Plains latest spinout, Eagle Royalties Ltd. (CSE:"ER") was listed on May 24, 2023, and holds a diverse portfolio of royalty assets throughout western Canada.
Eagle Plains' core business is acquiring grassroots critical- and precious-metal exploration properties. The Company is committed to steadily enhancing shareholder value by advancing our diverse portfolio of projects toward discovery through collaborative partnerships and development of a highly experienced technical team.
Expenditures from 2011-2022 on Eagle Plains-related projects exceed $30M, the majority of which was funded by third-party partners. This exploration work resulted in approximately 45,000m of diamond-drilling and extensive ground-based exploration work facilitating the advancement of numerous projects at various stages of development.
Throughout the exploration process, our mission is to help maintain prosperous communities by exploring for and discovering resource opportunities while building lasting relationships through honest and respectful business practices.
On behalf of the Board of Directors
"Tim J. Termuende"
President and CEO
For further information on EPL, please contact Mike Labach at 1 866 HUNT ORE (486 8673)
Email: [email protected] or visit our website at https://www.eagleplains.com
About Standard Uranium (TSX-V: STND)
We find the fuel to power a clean energy future.
Standard Uranium is a uranium exploration company and emerging project generator poised for discovery in the world's richest uranium district. The Company holds interest in over 187,542 acres (75,895 hectares) in the world-class Athabasca Basin in Saskatchewan, Canada. Since its establishment, Standard Uranium has focused on the identification, acquisition, and exploration of Athabasca-style uranium targets with a view to discovery and future development.
Standard Uranium's Atlantic, Canary, Ascent, Corvo, and Rocas Projects, in the eastern Athabasca Basin, comprise twenty-three mineral claims over 25,242 hectares. The eastern basin projects are highly prospective for unconformity related and/or basement hosted uranium deposits based on historical uranium occurrences, recently identified geophysical anomalies, and location along trend from several high-grade uranium discoveries.
Standard Uranium's Sun Dog project, in the northwest part of the Athabasca Basin, Saskatchewan, is comprised of nine mineral claims over 19,603 hectares. The Sun Dog project is highly prospective for basement and unconformity hosted uranium deposits yet remains largely untested by sufficient drilling despite its location proximal to uranium discoveries in the area.
Standard Uranium's Davidson River Project, in the southwest part of the Athabasca Basin, Saskatchewan, comprises ten mineral claims over 30,737 hectares. Davidson River is highly prospective for basement-hosted uranium deposits due to its location along trend from recent high-grade uranium discoveries. However, owing to the large project size with multiple targets, it remains broadly under-tested by drilling. Recent intersections of wide, structurally deformed and strongly altered shear zones provide significant confidence in the exploration model and future success is expected.
For further information contact:
Jon Bey, Chief Executive Officer, and Chairman
1030 West Georgia Street, Suite 907
Vancouver, BC V6E 2Y3
Tel: 1 (306) 850-6699
E-mail: [email protected]
Cautionary Statement Regarding Forward-Looking Statements
This news release contains "forward-looking statements" or "forward-looking information" (collectively, "forward-looking statements") within the meaning of applicable securities legislation. All statements, other than statements of historical fact, are forward-looking statements and are based on expectations, estimates and projections as of the date of this news release. Forward-looking statements include, but are not limited to, statements regarding the Acquisition, and the Company's business and plans, including with respect to completing the Acquisition, carrying out exploration activities in respect of its Corvo Project, prospective uranium mineralization, the Company seeking additional partners to advance all its projects, geological interpretations; timing of the Company's exploration programs; and estimates of market conditions.
Forward-looking statements are subject to a variety of known and unknown risks, uncertainties and other factors that could cause actual events or results to differ from those expressed or implied by forward-looking statements contained herein. There can be no assurance that such statements will prove to be accurate, as actual results and future events could differ materially from those anticipated in such statements. Certain important factors that could cause actual results, performance or achievements to differ materially from those in the forward-looking statements are highlighted in the "Risks and Uncertainties" in the Company's management discussion and analysis for the fiscal year ended April 30, 2022, dated August 26, 2022, and also include the risks that the Acquisition does not complete as contemplated, or at all; that the Company does not complete any further acquisitions; that the Company does not carry out exploration activities in respect of its mineral project as planned (or at all); and that the Company may not be able to carry out its business plans as expected.
Forward-looking statements are based upon a number of estimates and assumptions that, while considered reasonable by the Company at this time, are inherently subject to significant business, economic and competitive uncertainties and contingencies that may cause the Company's actual financial results, performance, or achievements to be materially different from those expressed or implied herein. Some of the material factors or assumptions used to develop forward-looking statements include, without limitation: the future price of uranium; anticipated costs and the Company's ability to raise additional capital if and when necessary; volatility in the market price of the Company's securities; future sales of the Company's securities; the Company's ability to carry on exploration and development activities; the success of exploration, development and operations activities; the timing and results of drilling programs; the discovery of mineral resources on the Company's mineral properties; the costs of operating and exploration expenditures; the presence of laws and regulations that may impose restrictions on mining; employee relations; relationships with and claims by local communities and indigenous populations; availability of increasing costs associated with mining inputs and labour; the speculative nature of mineral exploration and development (including the risks of obtaining necessary licenses, permits and approvals from government authorities); uncertainties related to title to mineral properties; assessments by taxation authorities; fluctuations in general macroeconomic conditions.
The forward-looking statements contained in this news release are expressly qualified by this cautionary statement. Any forward-looking statements and the assumptions made with respect thereto are made as of the date of this news release and, accordingly, are subject to change after such date. The Company disclaims any obligation to update any forward-looking statements, whether as a result of new information, future events or otherwise, except as may be required by applicable securities laws. There can be no assurance that forward-looking statements will prove to be accurate, as actual results and future events could differ materially from those anticipated in such statements. Accordingly, readers should not place undue reliance on forward-looking statements.
Neither the TSX-V nor its Regulation Services Provider (as that term is defined in the policies of the TSX-V) accepts responsibility for the adequacy or accuracy of this release.
Photos accompanying this announcement are available at:
https://www.globenewswire.com/NewsRoom/AttachmentNg/24ffcb3a-018a-4848-8023-a2e2d9b6dab0
https://www.globenewswire.com/NewsRoom/AttachmentNg/d3ac3bf1-0055-435f-9c81-ecf779156c82
https://www.globenewswire.com/NewsRoom/AttachmentNg/fc7178aa-5c56-4d0d-b6db-b0b761f8303f
______________________________________
1The Company considers uranium mineralization with concentrations greater than 1.0 wt.% U3O8to be "high-grade".

CBJ Newsmakers