Toronto Raptors' First Pick of the 2023 NBA Draft, Gradey Dick, Becomes Brand Ambassador and Investor in GURU Organic Energy
MONTREAL, Sept. 06, 2023 (GLOBE NEWSWIRE) — GURU Organic Energy Corp. (TSX: GURU) ("GURU" or the "Company"), Canada's leading organic energy drink brand1, proudly announces that it has partnered with Gradey Dick, the Toronto Raptors' rookie and the team's first round pick in the 2023 NBA draft. He joins the GURU team as a brand ambassador of the Company. This strategic collaboration is GURU's first with a professional basketball athlete. Gradey also acquired shares of the Company and will receive options in GURU as part of the collaboration.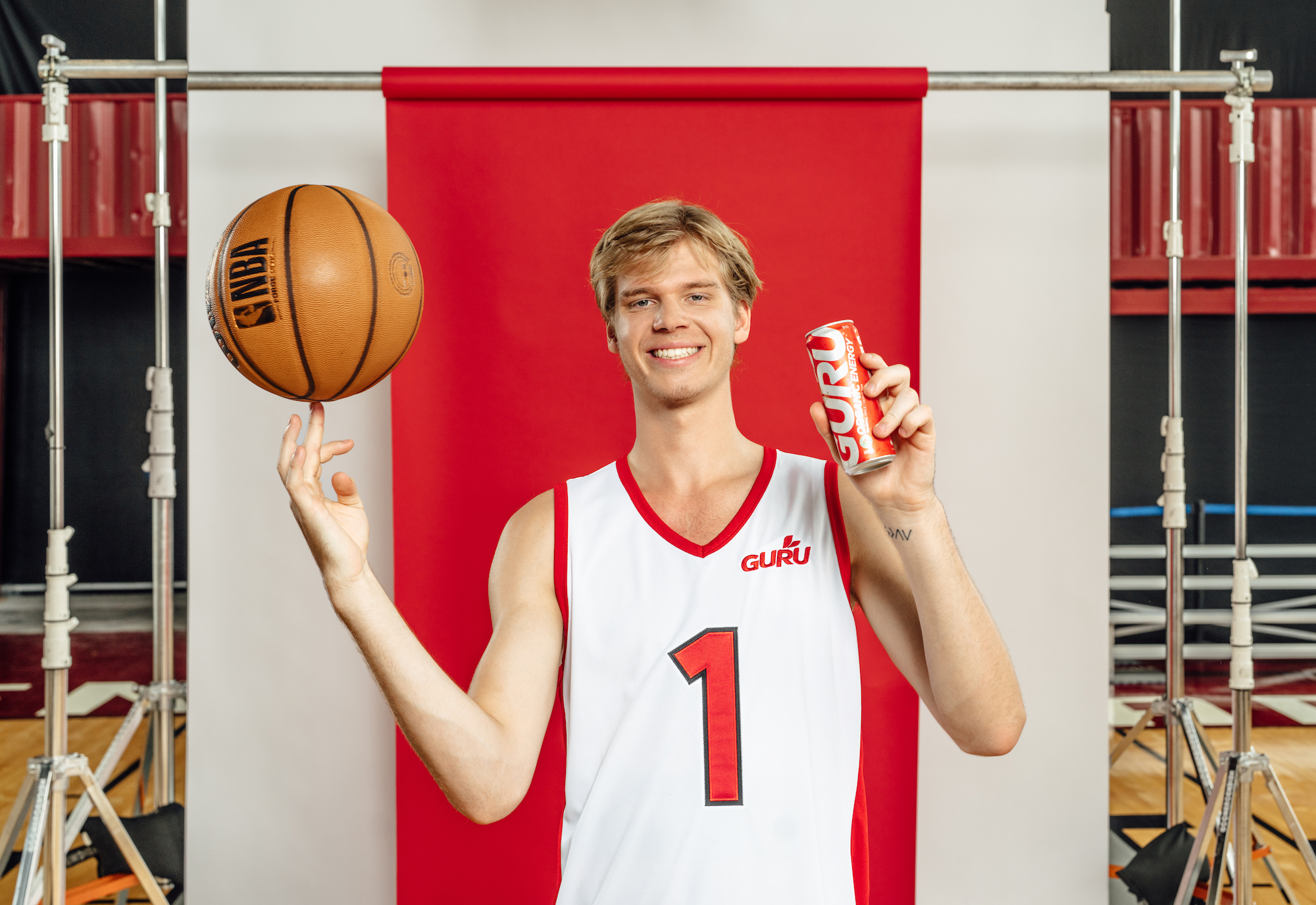 The Raptors' newest guard, is one of the most dynamic new players in the NBA with a spirited personality that has made him one of the most followed young players in the NBA.
"When the opportunity to partner with GURU was presented, I knew right away that it was a good fit, because not only does the product bring great clean energy, but the team embodies the positive 'Feel Good Energy' that I try to live my life with," Dick said. "Partnering with a company like GURU whose natural ingredients, sustainable practices, and the team's high-energy culture reflect the same values as my own made sense. I'm looking forward to learning more about the beverage industry and helping the Company grow across the board."
In addition to helping promote the brand, GURU will also leverage Gradey Dick's production company to create content and they will jointly curate community giveback efforts across Canada.
Carl Goyette, President and CEO of GURU, praised the athlete by adding: "We wanted to collaborate with a professional athlete that embodied the Company's Feel Good Energy sentiment and we found the perfect fit with Gradey. GURU will be the perfect addition to Gradey's highly demanding lifestyle, providing him with the good energy he'll need to thrive as one of the most talked about NBA rookie players this season. Together, we are working to develop a series of events and activations for fans across Canada. With Gradey on board as brand ambassador, we are confident that our Company's future will be even more dynamic and prosperous, as we continue our commitment to delivering excellence to our customers and stakeholders."
This partnership also represents GURU's commitment toward promoting basketball in Canada. The Company has been a proud sponsor of the Canadian Elite Basketball League (CEBL) for the past two years and a top supporter of this amazing sport, considered as the most popular participatory team sport in Canada and the second-fastest growing sport in the world with over 2.4 billion fans.
Upcoming events and activations with Gradey Dick will be announced on GURU's social media accounts and on Gradey's TikTok: @gradeydick, Instagram: @gradey, and X (Twitter): @gradey_dick.
About GURU Products
GURU energy drinks are made from a short list of plant-based active ingredients, including natural caffeine, with zero sucralose and zero aspartame. These carefully sourced ingredients are crafted into unique blends that push your body to go further and your mind to be sharper.
About Gradey Dick
Gradey Dick is a professional basketball player for the Toronto Raptors, selected as the 13th overall pick in the 2023 NBA Draft. As a collegiate star at the university of Kansas, Dick was named to the All-Big 12 team, for his strong performance in helping lead the Jayhawks to a No. 1 seed in the 2023 NCAA Tournament. Dick is known as one of the purest shooters in the game. As a high schooler, Dick earned honors as the Gatorade National Player of the Year. He was born and raised in Wichita, KS.
About GURU Organic Energy
GURU Organic Energy Corp. (TSX: GURU) is a dynamic, fast-growing beverage company that launched the world's first natural, plant-based energy drink in 1999. The Company markets organic energy drinks in Canada and the United States through an estimated distribution network of over 25,000 points of sale, and through www.guruenergy.com and Amazon. GURU has built an inspiring brand with a clean list of organic ingredients, including natural caffeine, with zero sucralose and zero aspartame, which offer consumers Feel Good Energy that never comes at the expense of their health. The Company is committed to achieving its mission of cleaning the energy drink industry in Canada and the United States. For more information, go to investors.guruenergy.com or follow us @guruenergydrink on Instagram, @guruenergy on Facebook and @guruenergydrink on TikTok.
For further information, please contact:
Forward-Looking Statements
This press release contains "forward-looking statements" within the meaning of applicable Canadian securities legislation. Such forward-looking statements include, but are not limited to, information with respect to the Company's objectives and the strategies to achieve these objectives, information and statements relating to potential future purchases by GURU of Shares under the NCIB, as well as information with respect to management's beliefs, plans, expectations, anticipations, estimates and intentions. These forward-looking statements are identified by the use of terms and phrases such as "may", "would", "should", "could", "expect", "intend", "estimate", "anticipate", "plan", "believe", or "continue", the negative of these terms and similar terminology, including references to assumptions, although not all forward-looking statements contain these terms and phrases. Forward-looking statements are provided for the purposes of assisting the reader in understanding the Company and its business, operations, prospects and risks at a point in time in the context of historical and possible future developments and therefore the reader is cautioned that such statements may not be appropriate for other purposes. Forward-looking statements are based upon a number of assumptions and are subject to a number of risks and uncertainties, many of which are beyond management's control, which could cause actual results to differ materially from those that are disclosed in or implied by such forward-looking statements. These risks and uncertainties include, but are not limited to, the following risk factors, which are discussed in greater detail under the "RISK FACTORS" section of the annual information form for the year ended October 31, 2022: management of growth; reliance on key personnel; reliance on key customers; changes in consumer preferences; significant changes in government regulation; criticism of energy drink products and/or the energy drink market; economic downturn and continued uncertainty in the financial markets and other adverse changes in general economic or political conditions, as well as the COVID-19 pandemic, the war in Ukraine and geopolitical developments, global inflationary pressure or other major macroeconomic phenomena; global or regional catastrophic events; fluctuations in foreign currency exchange rates; inflation; revenues derived entirely from energy drinks; increased competition; relationships with co-packers and distributors and/or their ability to manufacture and/or distribute GURU's products; seasonality; relationships with existing customers; changing retail landscape; increases in costs and/or shortages of raw materials and/or ingredients and/or fuel and/or costs of co-packing; failure to accurately estimate demand for its products; history of negative cash flow and no assurance of continued profitability or positive EBITDA; repurchase of common shares; intellectual property rights; maintenance of brand image or product quality; retention of the full-time services of senior management; climate change; litigation; information technology systems; fluctuation of quarterly operating results; risks associated with the PepsiCo distribution agreement; accounting treatment of the PepsiCo Warrants; and conflicts of interest, as well as those other risks factors identified in other public materials, including those filed with Canadian securities regulatory authorities from time to time and which are available on SEDAR+ at www.sedarplus.ca. Additional risks and uncertainties not currently known to management or that management currently deems to be immaterial could also cause actual results to differ materially from those that are disclosed in or implied by such forward-looking statements. Although the forward-looking statements contained herein are based upon what management believes are reasonable assumptions as at the date they were made, investors are cautioned against placing undue reliance on these statements since actual results may vary from the forward-looking statements. Certain assumptions were made in preparing the forward-looking statements concerning availability of capital resources, business performance, market conditions, and customer demand. Consequently, all of the forward-looking statements contained herein are qualified by the foregoing cautionary statements, and there can be no guarantee that the results or developments that management anticipates will be realized or, even if substantially realized, that they will have the expected consequences or effects on the business, financial condition or results of operation. Unless otherwise noted or the context otherwise indicates, the forward-looking statements contained herein are provided as of the date hereof, and management does not undertake to update or amend such forward-looking statements whether as a result of new information, future events or otherwise, except as may be required by applicable law.
A photo accompanying this announcement is available at https://www.globenewswire.com/NewsRoom/AttachmentNg/df2ea4da-4f3e-4c3a-9497-f9db36989588
________________________
1 Nielsen: 52-week period ended July 15, 2023, All Channels, Canada vs. same period year ago.

CBJ Newsmakers